10-75.Net HotShots:
---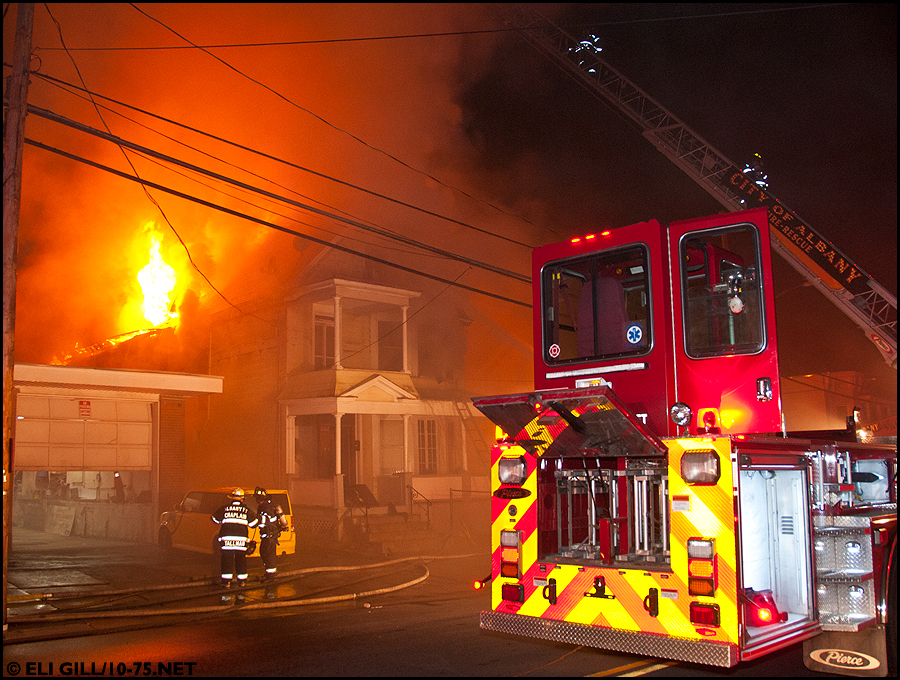 Albany Firefighters responded to this 2nd Alarm fire at 45 Watervliet Ave 4/12/14

Apparatus News Page
Upcoming Apparatus Deliveries, Orders & Refurbs

---
Recent Updates:

4/17 - Updated: Mountain View FD, Brunswick No. 1 FD, Raymertown FD, Eagle Mills FD & Pittstown FD

4/12 - Albany, NY Signal 30 Structural Fire - 4/7/14
Slingerlands, NY Signal 30 Structural Fire - 4/9/14
Updated: West Sand Lake FD, Averill Park FD, Wynantskill FD, Center Brunswick FD

3/17 - Added: Miami-Dade Fire Rescue

3/16 - Added: Slingerlands, NY Signal 30 Structural Fire - 3/9/14

3/9 - Updated: Kripplebush FD

2/16 - Updated: Fire Department of New York (Added over 200 photos)

2/15 - Added: Union Springs FD, Eastham FD, East Moriches FD, Martinsburg FD, North Collins Emergency Squad
Updated: Batavia Town FD (L25), Oneida Indian Nation PD (Command Cntr)

2/5 - Added: Wrights Corners FD, Ottawa FD, Brier Hill FD, Copenhagen FD, Parish FD, Choconut Center FD
Updated: Clinton FD (E2), Rensselaer FD (E4), Cairo FD (R4-6), South Schodack FD (34-3), Maybrook FD (E210), Liverpool FD (E1 & WR1)

2/4 - Added: Webbs Mills FD, Castile FD, Suffolk County Emergency Services, Margaretville FD
Updated: Arlington FD (32-72), Utica FD (T1, T2, TU2), Cortlandville FD (1301), Ithaca FD (L931), Watertown FD (46-1-1), Minoa FD (E11)

1/25 - Added: Bedford FD, West Harrison FD, Clarkstown PD, Rockland Paramedics, Mombasha FD
Updated: Somers FD, Monsey FD, West Haverstraw FD, Rockland County Fire & EMS, Rockland County SO,
New City FD, Tappan FD, Stony Point FD, Spring Valley FD, Thiells FD, Congers FD, West Nyack FD, Pearl River FD, Central Nyack FD

1/22 - Added: Mount Kisco FD
Updated: Pleasant Valley FD, New Rochelle FD, Millwood FD

1/18 - Added: Sarasota County, FL FD, Nokomis, FL FD Harriman FD, Rifton FD, Kyiras Joel Public Safety
Updated: Good Will (Newburgh) FD, Chester FD, West Point FD, Bloomington FC, Silver Lake FD

1/16 - Added: Tillson FC, Stewart AFB FD, Cornwall FD (Photographed these years ago, finally getting around to posting them. I have many more...)
Updated: Ladder 48-11 in Port Ewen FD, Engine 2211 in Connelly FD, Rescue 3 in Cronomer Valley FD, Truck 6 in Circleville FD.
Also updated several units in Middletown FD, Wappingers Falls FD & Pocatello FD.

1/13 - Added: Albany, NY Signal 30 Structural Fire - 1/12/14

12/15 - Updated: Newark FD


---

Want me to photograph your department's apparatus? Send me an email!


E-Mail

10-75.Net
Send me questions, comments, corrections, complaints, etc.
---
All Content Copyright 2005-2014 Eli D. Gill/10-75.Net, unless otherwise noted. All Rights Reserved.
This site is not associated with, and does not reflect the opinions of any of the departments, names or services that are posted or depicted on this website unless otherwise noted.