10-75.Net HotShots:
---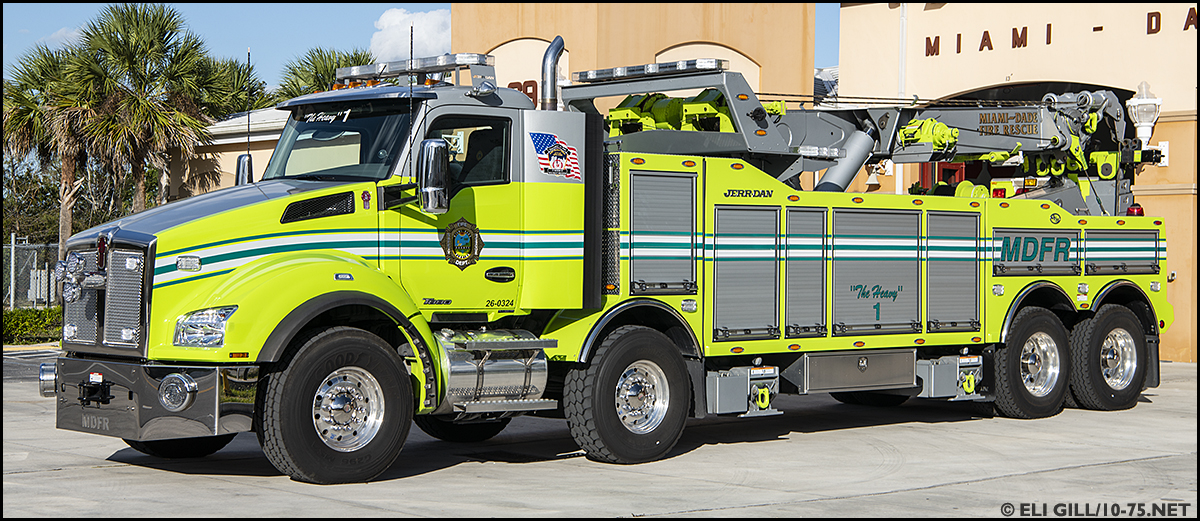 Miami Dade Fire Rescue operates this Kenworth/Jerr-Dan heavy wrecker as part of its Technical Rescue Team

Apparatus News Page
Upcoming Apparatus Deliveries, Orders & Refurbs

---
Recent Updates:

12/31 - Updated: Hoags Corners FD, Niskayuna FD (Dist 1), Knoll's Atomic Power Lab Fire Brigade,
Several Westchester County departments (added file shots of recent Seagrave deliveries).

12/30 - Added or updated: Brevard County FR, Space Coast Airport Fire, Seminole County FD, Hillsborugh County FD, Tampa FD, Lakeland FD, Safety Harbor FD,
Dunedin FD, St. Peterburg FD, St. Petersburg-Clearwater Airport, Pinellas Park FD, Lake County FD, Minneola FD, Montverde FD, Orlando FD,
Ocoee FD, Orange County FD and Clermont FD

9/25 - Added: St. Louis FD, Lake Ozark FD, Osage Beach FD, Baltimore City FD, Lutherville FD, Anne Arundel County FD
Updated: Baltimore County FD, Washington D.C. FD

8/26 -Added: Portland, OR FD, Seattle, WA FD Updated: DEP Police

7/29 - Updated: Coeymans Hollow FD


---
Want me to photograph your department's apparatus? Send an Email.
E-Mail
10-75.Net
Send me questions, comments, corrections, complaints, etc.
---
All Content Copyright 2004-2019 Eli D. Gill/10-75.Net, unless otherwise noted. All Rights Reserved.
This site is not associated with, and does not reflect the opinions of any of the departments, names or services that are posted or depicted on this website unless otherwise noted.