10-75.Net HotShots:
---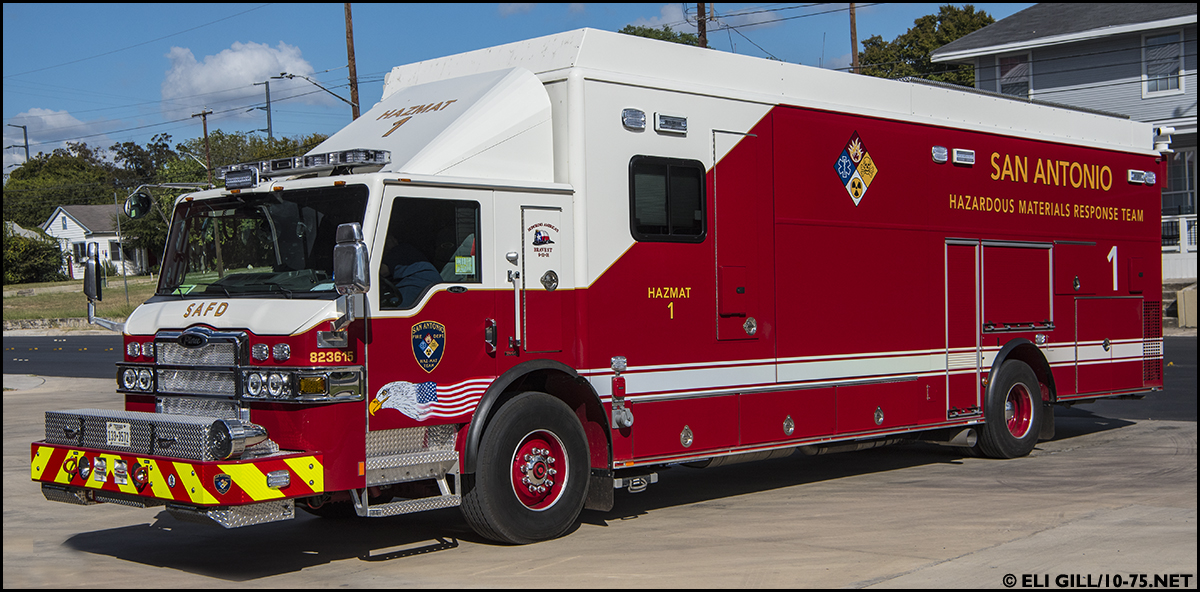 San Antonio, TX operates this Pierce Velocity as Hazmat 1

Apparatus News Page
Upcoming Apparatus Deliveries, Orders & Refurbs

---
Recent Updates:

12/9 - Added: San Antonio FD, Austin FD, Austin-Travis County EMS, Bracken FD, New Braunfels FD, Selma FD & Schertz EMS
Updated: Fire Department of New York (added about 80 photos including E63, L39, E38, L51, SQ61, R3, CR3, R4, E262, L6, L149, SAT2, E72, E66, L61 and many others)
Yonkers FD (Sq11, R1, E307), Mamaroneck Village FD (E42, L21), Tarrytown FD (Utility 61), Sleepy Hollow FD (E87, L38), Rombout FD, Ravena FD

11/27 - Updated: Boght FD, Slingerlands FD, Cohoes FD, Maplewood FD, Shaker Rd Loudonville FD, Defreestville FD, East Greenbush FD,
Small additions to Albany County Sheriffs Office & Albany County EMS, Coeymans PD
More San Antonio FD photos to follow


---
Want me to photograph your department's apparatus? Send an Email.
E-Mail
10-75.Net
Send me questions, comments, corrections, complaints, etc.
---
All Content Copyright 2004-2016 Eli D. Gill/10-75.Net, unless otherwise noted. All Rights Reserved.
This site is not associated with, and does not reflect the opinions of any of the departments, names or services that are posted or depicted on this website unless otherwise noted.